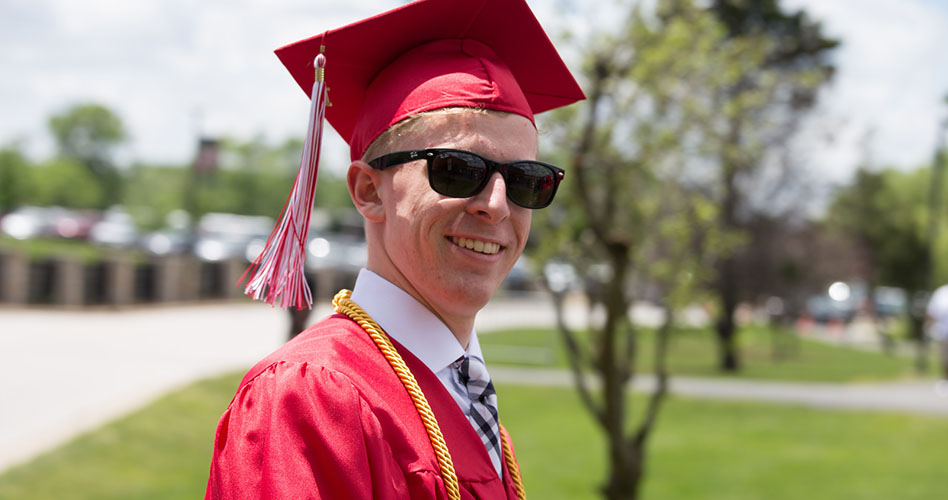 HF High School Graduation, 2016
Hi- I'm Nick.
I'm a current sophmore at Northeastern University studying computer science and math. I have a strong love for hockey and the Chicago Blackhawks, and am part of our club roller hockey team at school.
Some of my recent fun tech projects include:
updating my desktop to a quintuple boot: Windows 10, macOS Sierra as a Hackintosh, Ubuntu GNOME 17.04, Fedora 26, and Arch Linux.
reconfiguring my home server to run ESXi with pfSense in a virtual machine as my router and Ubuntu server running various applications
configuring my homelab to do complicated functions that are accessible to almost everyone.
scrounging up computer parts people are throwing out to use or resell
jailbreaking/rooting phones for ssh/root access to increase customization
providing local tech support for friends and family when I am home from school
I have good experience with the following:
Languages:&nbsp&nbsp Java, Racket(Scheme), Lisp, HTML, CSS
Systems:&nbsp&nbsp Windows, macOS, Linux, iOS, Android
Software:&nbsp&nbsp VMware ESXi/Workstation/Fusion, Eclipse, IntelliJ IDEA, Atom, Notepad++, Photoshop, Illustrator, Premier Pro, Microsoft Office
Networking:&nbsp&nbsp Ubiquiti Unifi devices, pfSense, various other routers/switces
---
I enjoy building and customizing computers to work exactly how I want to. My current specs are listed below. If you are curious how I configured everything check out the project page.
CPU:&nbsp&nbsp Intel i5-4670k @ 3.4 Ghz
CPU Cooler:&nbsp&nbsp Corsair H60
Motherboard:&nbsp&nbsp Gigabyte GA-Z97MX-Gaming 5
GPU:&nbsp&nbsp Asus GeForce GTX 660 2GB
Memory:&nbsp&nbsp Crucial - Ballistix Sport 16GB (2 x 8GB)
Memory:&nbsp&nbsp Corsair - Vengeance Pro 16GB (2 x 8GB)
Storage:&nbsp&nbsp Samsung - 850 EVO-Series 250GB 2.5" SSD
Storage:&nbsp&nbsp OCZ - ARC 100 120GB 2.5" SSD
Storage:&nbsp&nbsp Crucial - MX200 250GB 2.5" SSD
Storage:&nbsp&nbsp WD Green 750GB 3.5" 5400RPM HDD
Storage:&nbsp&nbsp WD Blue 640GB 3.5" 7200RPM HDD
Case:&nbsp&nbsp Cooler Master - Silencio 352
PSU:&nbsp&nbsp EVGA SuperNOVA G2 650W 80+ Gold
Monitor:&nbsp&nbsp Dell SG2417DG - 1440p @ 165hz
Monitor:&nbsp&nbsp Dell E2210H - 1080p @ 60hz
Keyboard:&nbsp&nbsp Corsair K70 - Brown Switches
Mouse:&nbsp&nbsp Logitech G502 Protus Core
Model:&nbsp&nbsp Late 2016 Space Gray with Touchbar
CPU:&nbsp&nbsp Intel i5-6267U @ 2.9 GHz
Graphics:&nbsp&nbsp Intel Iris Graphics 550
Memory:&nbsp&nbsp 16GB 2133MHz LPDDR3 SDRAM
Storage:&nbsp&nbsp 512GB PCIe-based SSD